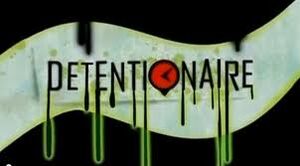 Detentionaire: Boxed In is a fan-made series made by MLBert. It features 10th grader Lee Ping, a framed ANigma High student stuck in detention for a full year after someone pulled the biggest prank in high school history, and got Lee framed. He stays in detention with Biffy Goldstein, a school bully who has a soft spot for animals. With the help of him and his two friends Cam and Hulger, he is able to sneek out of detention to find out who set him up, while avoiding the principal, otherwise known as Principal General Barrage, with the assistance of Vice Principal Victoria. In season one of Detentionaire, Lee finds out that on the first day of school, a camera was lost in the wreckage of the prank, and someone (later to be revealed as Chaz Monteranian) was able to get his hands on the video tape. He is forced to hang out with one of the Glamazons, named Brandy Silver. This interferes alot with his love interest with Tina Kwee, a reporter that, unfortunately for her, works with Chaz Monteranian on the school news.
Later in the episodes, he finds out the skaters recieved an e-mail from an e-mail account named "RadCircles@AnigmaHigh" and he later makes contact with him/her. He has found out many clues, but has yet to put the pieces together. This is where this story comes in...
Characters
Edit
The following characters are in the series:
Main Characters:
Edit
Lee Ping
Camilio Esmereldo Martinez
Hulger Holgaart
Tina Kwee
Chaz Monteranian
Principal General Barrage
Biffy Goldstein
Brandy Silver
Sub-characters:
Edit
VP Victoria
Brad Von Chilstein
Kimmie McAdams
Tatzelworm
Mrs. Ping
Mr.Ping
Irwin Dexter
Many other characters are in the series. However, they are rarely shown in the series.
Episodes:
Edit
Episode 1: Lightning strikes twice (TBA)